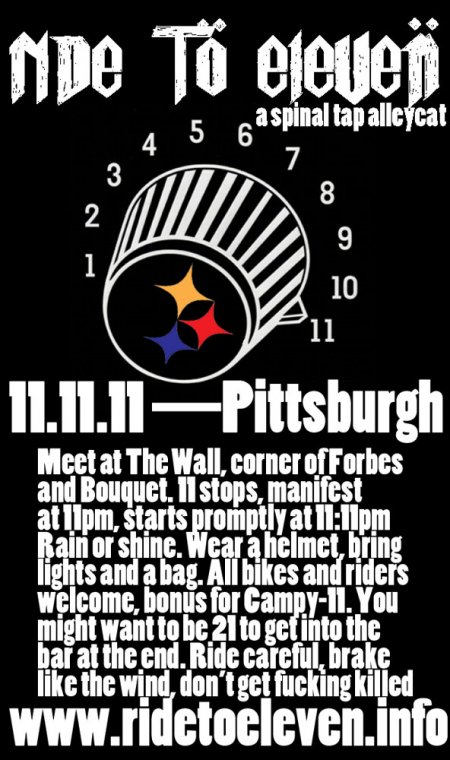 Ride To Eleven – A Spinal Tap Alleycat

11.11.11—Pittsburgh

Meet at The Wall, corner of Forbes and Bouquet. 11 stops, manifest at 11pm, starts promptly at 11:11pm. Rain or shine. Wear a helmet, bring lights and a bag. All bikes and riders welcome, bonus for Campy-11. You might want to be 21 to get into the bar at the end. Ride careful, brake like the wind, don't get fucking killed.

www.ridetoeleven.info

There will perhaps be a secret handshake showing of Spinal Tap earlier in the evening.

Volunteers – If you would like to volunteer, get in touch. If it is between volunteering and riding, I encourage you to ride.
When: Friday, November 11th, 2011; 11:11pm
Where: The Wall (corner of Bouquet & Forbes, Oakland, Pittsburgh, PA)
Official website
Facebook event
Bike-pgh thread
---
2 Responses to " Ride To Eleven – A Spinal Tap Alleycat "
Comments:
Leave a Reply
Trackbacks & Pingbacks:
Pingback from After all–These go to 11. « Bike Blog NYC
November 8th, 2011 at 12:54 am

[…] info here. tweetmeme_url = 'http://www.bikeblognyc.com/after-all-these-go-to-11/';;tweetmeme_source = […]

Pingback from After all–These go to 11. | Body Local NYC
November 10th, 2011 at 11:16 am

[…] info here.   If you enjoyed this article, please consider sharing […]