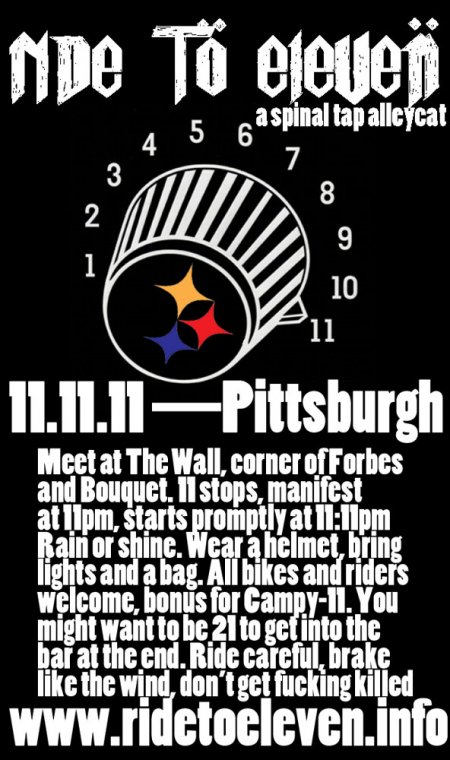 Ride To Eleven – A Spinal Tap Alleycat

11.11.11—Pittsburgh

Meet at The Wall, corner of Forbes and Bouquet. 11 stops, manifest at 11pm, starts promptly at 11:11pm. Rain or shine. Wear a helmet, bring lights and a bag. All bikes and riders welcome, bonus for Campy-11. You might want to be 21 to get into the bar at the end. Ride careful, brake like the wind, don't get fucking killed.

www.ridetoeleven.info

There will perhaps be a secret handshake showing of Spinal Tap earlier in the evening.

Volunteers – If you would like to volunteer, get in touch. If it is between volunteering and riding, I encourage you to ride.
When: Friday, November 11th, 2011; 11:11pm
Where: The Wall (corner of Bouquet & Forbes, Oakland, Pittsburgh, PA)
Official website
Facebook event
Bike-pgh thread
---
4 Responses to " Ride To Eleven – A Spinal Tap Alleycat "
Comments:
snow boots uk says:
June 1st, 2018 at 4:51 am

Good day very nice website!! Guy .. Excellent .. Superb
.. I will bookmark your site and take the feeds also?
I am glad to find a lot of helpful information here in the submit, we need develop extra strategies
in this regard, thanks for sharing. . . . . .

Adultftiendfindet says:
June 20th, 2018 at 1:22 pm

We're a gaggle of volunteers and opening a brand new scheme in our community.
Your web site provided us with valuable info to work on. You have performed an impressive job and
our whole neighborhood will likely be grateful to you.
Leave a Reply
Trackbacks & Pingbacks:
Pingback from After all–These go to 11. « Bike Blog NYC
November 8th, 2011 at 12:54 am

[…] info here. tweetmeme_url = 'http://www.bikeblognyc.com/after-all-these-go-to-11/';tweetmeme_source = […]

Pingback from After all–These go to 11. | Body Local NYC
November 10th, 2011 at 11:16 am

[…] info here. If you enjoyed this article, please consider sharing […]