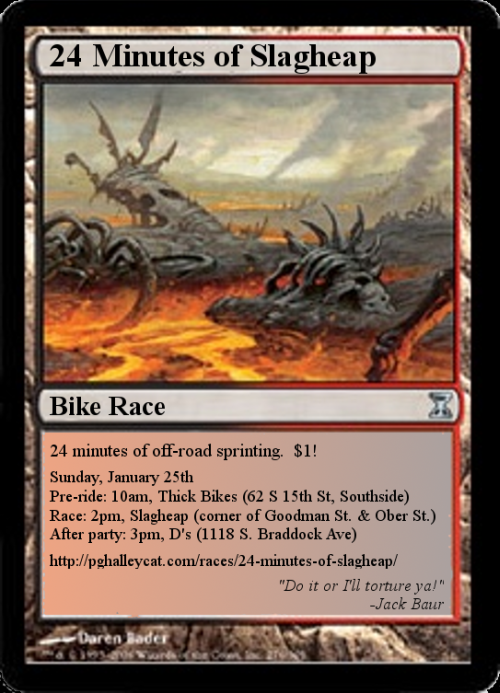 Pre-ride through Schenley and Frick and then race as many laps of the slagheap singletrack as you can in 24 minutes. The winner gets a pat on the back and maybe a beer. Afterparty at D's. Pre-ride and afterparty free, $1 to race. Your money pays for spokecards; any extra cash goes to food and beer.
Come-on, what else are you going to do the week before the Stillers win one for the other thumb?
Pre-ride
When: Sunday, January 25th, 10:00 am
Where: Thick Bikes (62 S 15th St, Southside)
Cost: Free!
Race
When: Sunday, January 25th, 2:00 pm
Where: The slagheap singletrack: (corner of Goodman St. & Ober St.)
Cost: $1!
Prizes: Nope.
After party
When: Sunday, January 25th, 3:00 pm
Where: D's (1118 S. Braddock Ave)
Cost: Buy your own beer
PS: yeah, that's a MtG card. So what?
Results
I met Chris, Stik and Rob L at Piper's a little after 10am where they were finishing up breakfast. We made it back to Thick around 10:15 to meet Al. After watching scraper bikes and Red fang we hit the road.
The climb through Panther Hollow was brutal as always, but the real "surprise" was the sheet of ice that was the Schenley Park fireroad. At the top of Schenley we waited for Carol before riding a loop down Creek Trail then taking some singletrack into Squirrel Hill and then the road to Frick.
First stop in Frick was a beer stop. Then we did a mix of singletrack and fireroads ending with the nature trail. The nature trail was my only real spill: lost my front wheel on ice. By the time I got down to the Tranquil Trail, the DORC's were already talking to the PORC's, who were on their own ride (and on their way to get beer and hotdogs, so no racing for them unfortuantely).
From Nature Trail we headed straight to the slag heaps, but I was still 10 minutes late. When I got there Corey and Dave were already hanging out freezing their asses off. Over the next 15 minutes everyone else showed up except for Carol who had gone to get some more beer from D's and had "gotten lost" and decided to stay put.
The 8 racers–Dave, Corey, Chris, Stik, Al, Rob, Steiner and Joe–lined up, I started the stop watch and they were off. The pace started off high; a little too high, since I was still peeing on a tree when Chris came by finishing his first lap. He was followed shortly by Rob, Stik and Steiner (who was riding drop bars and fenders).
The laps ticked by as I lost all feeling in my fingers. So did Corey and Dave, who both had to stop and try to warm up. Dave got warm first and took off again; Corey needed another 5 minutes of blowing on his hands.
At 23:30, Chris–still holding his lead–crested the hill. He kept the pace high and made it past me with about 2 seconds to go to start his 7th lap and clinch first. Next to show up were Stik–managing to pass Rob on the last lap–Rob, and Steiner. The full list:
Chris (7 laps)
Stik (6 laps)
Rob (6 laps)
Steiner (6 laps)
Joe (5 laps)
Al (5 laps)
Dave (4 laps)
Corey (3 laps)
Steiner and Rob were both kind enough to share from their flasks, warming me enough that I could grip the bars for the ride to D's. Outside of D's I bumped into Heather, a co-worker whose husband was thinking of doing the race but decided against it when it turned out his broken elbow wasn't healing as well as it could be. Inside D's, Carol was waiting for us there as was Tall Rob and Ed, his friend from Philly. Rob had called trying to find the race but I didn't hear the phone, by the time I got back in touch with them it was already minute 5. And the entire phone conversation was Rob saying "Hey man, my phone might die–"
We finished our beer, fries & dogs by 5pm (D's was closing for a private party) just in time for Steve K and Jason to show up. I rode back through Oakland with them before they peeled off for Kiva Han while I headed down Bates to the Southside.
Thanks to everyone who came out to ride. See you in a month for 24 Minutes of Creek Trail!
Photos
From Corey… Thanks!
---
7 Responses to " 24 Minutes of Slagheap "
Comments:
blake says:
January 17th, 2009 at 9:11 pm

i don't have an offroad bike…

dave says:
January 18th, 2009 at 3:39 am

Well… It's mostly flat. If you're a good runner….

revphil says:
January 29th, 2009 at 10:02 pm

i heart the recap. something my crew fails to do frequently
Leave a Reply
Trackbacks & Pingbacks: