It's over! You can go ahead and skip to the results.
---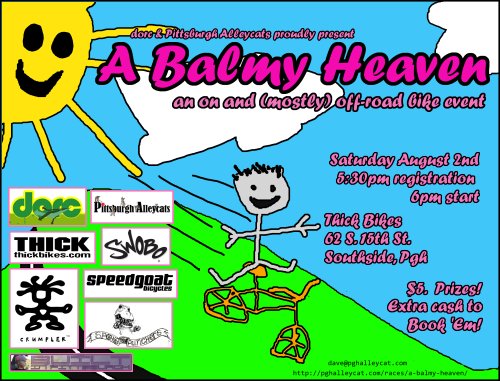 What: An on and (mostly) off-road bike event
Who: Everyone! There's a Race class for the hardcore and a fun class for everyone else.
When: Saturday August 2nd, 5:30pm registration; 6pm start
Where: Thick Bikes (62 South 15th Street, Southside)
How much: $5
Prizes: Hell yeah! Speedgoat, Thick Bikes, Swobo, Crumpler, Built In Pittsburgh, Spokepunchers
Should I wear a helmet: yes, unless you enjoy brain damage
What bike should I ride: mountain, cross or road. If you choose the last two you'll need a good dose of skillz, either bike handling or running.
Why: because you want to. Also the extra money goes to Book 'Em
The warm weather sequel to A Frozen Hell. If you somehow missed January's best off-road alleycat, it's a race on and (mostly) off-road. It starts in the Southside and heads through Schenley, and into Frick. Last time we ended with a potluck, and if anyone has a good spot for an afterparty, we can do the same this time. Otherwise we all go to D's.
The rules
The format will be the same as the Pittsburgh-Roubaix: checkpoints that you have to hit in a fixed order. The checkpoints are all along single-track trails, you've got to ride the entire length of single track (in the listed direction). You can choose your own path between check points, but normally there's only one that makes sense.
The race category also has a few obstacles that can be cleared for time bonuses. "Clearing" means you make it the whole way over on your bike. You can try as many times as you want, but you don't get the bonus if you wreck or put your foot down.
The route
Both categories start at Thick Bikes and end at D's (1118 S. Braddock Ave).
The Race category singletrack sections are:
Panther Hollow climb, uphill (trail from Panther Hollow to Schenley Park)
Creek Trail, towards the lake (Schenley Park)
Steve Faloon Trail, uphill (Schenley Park)
Nature Trail, downhill (Frick Park)
Bench Trail, uphill (Frick Park)
Iron Gate Trail, downhill (Frick Park)
Roller Coaster, uphill from Fire Lane Ext. (Frick Park)
Zig-Zag Trail, downhill from Lower Riverview (Frick Park)
"Beginning" Trail (off of Biddle Trail, connects down to 9 Mile Run Trail), downhill (Frick Park)
Slag Heap Loop (loop along ridge overlooking waterfront), east to west (the river on your left) (Frick Park)
The Fun ride singletrack sections are:
Steve Faloon Trail (Schenley Park)
Nature Trail, downhill (Frick Park)
Bench Trail, uphill (Frick Park)
Iron Gate Trail, downhill (Frick Park)
The Race course covers most of the trails in both parks, kudos to Chris and Larry from Thick Bikes / dorc for helping put the route together. The Fun course is a much less technical. For comparison it's slightly easier than the Frozen Hell course (and, of course, the trails aren't covered with snow).
Here's the google map hotness:

View Larger Map
And some photos from my pre-ride (doesn't include pics of the slagheap loop, those all came out pretty crappy). Click through for the full set:

Pre-register
Pre-registration is appreciated! You don't have to pay me up front, just email me to let me know you're coming. Like the Roubaix, you can also get a semi-customized spokecard. Let me know what # and text you want. It'll also be a special two-sided card, not like those lame 1-sided cards I make for everyone else. Here's an example:
front: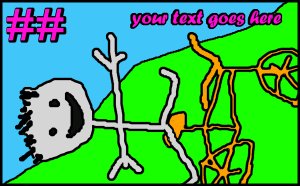 back: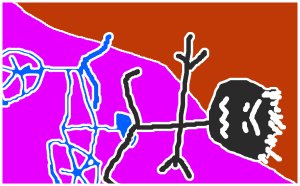 You need to pre-register by Thursday night if you want a custom spoke card.
Results
The full results will have to wait until I get my notebook back from Rob, who graciously picked it up from where I left it lying on the sidewalk outside of D's.
Anyways… While everyone else sped off, Chris spent a minute hopping his way across the concrete pipes. Sometime in the woods he met up with Randy, who was shortly behind Aaron and Stik. Randy later dropped after he missed a turn and, as he says it "found himself in the bottom of Frick." And once you're in the bottom of Frick, you're not going to win. Stik showed up first, followed by Chris and then Aaron. Chris's 5 minute time bonus for crossing the pipes gave him the overall lead. (Though I should mention that Stik was riding fixed)
The fun-riders came in next. Yves, Iris & Ross admitted to skipping the bench trail, which they couldn't find. Frankie rode slightly less, seeing as his rear derailler crapped and reduced his bike to a three speed. The rest of the riders came in in two's and three's, though I don't think anyone actually finished the entire course.
We drank some beer (in some cases root) and ate deep fried goodness for awhile and then divvied out the schwag. First second and third went to Chris, Stik and Aaron. Iris got next pick as the only women who rode. Randy got "BFP" (Broken Farking Pinky). After that everyone–including the volunteers–just grabbed what they wanted. Just like the last slice of pie, no one wanted to take the last item: a pack of Crumpler playing cards. They got donated to the friendly D's bartenders.
Casey from Spokepunchers showed up as prizes were wrapping up so we hung out with the die-hards: Iris, Danita and Rob. Serendipitously, Bob from Iron City Bikes came in so I could give him a hard time for not riding; he's the only other person I know who could have done the concrete pipes obstacle (though both Brad Q and B-Rad used to ride trials, so maybe they could have done it too). He made it up by promising to donate stuff for the next alleycat. Yay!
Thanks to all the riders, the sponsors and the volunteers: Cupcake Erin, Brad Q, Mark R, Susie, Rachel and Chris Cornbread.
Hope everyone had fun!
Some pictures
Email me if you've got more. I'm waiting to see Brad Q's beautiful snaps…
Here are some samples from my set:
Sponsors
---
5 Responses to " A Balmy Heaven: an on and (mostly) off-road bike event "
Comments:
jon says:
August 3rd, 2008 at 9:03 am

great one!
…got a couple pictures

dave says:
August 3rd, 2008 at 11:24 am

Sweet pictures, Jon.
Leave a Reply
Trackbacks & Pingbacks:
Pingback from Disgruntled Off-Road Cyclists » Blog Archive » Saturday August 2nd - Alleycat On/Off Road
July 27th, 2008 at 11:07 pm

[…] Official Link To Race Site […]

Pingback from Disgruntled Off-Road Cyclists » Blog Archive » Wednesday July 30th - Evening Ride - Pre-Ride Race Course
July 30th, 2008 at 11:54 am

[…] Link To Official Race Site […]

Pingback from A Balmy Heaven: results & pics… » Pittsburgh Alleycats
August 5th, 2008 at 2:47 pm

[…] …are on the web: A Balmy Heaven results. […]