The race is over… see the results!
---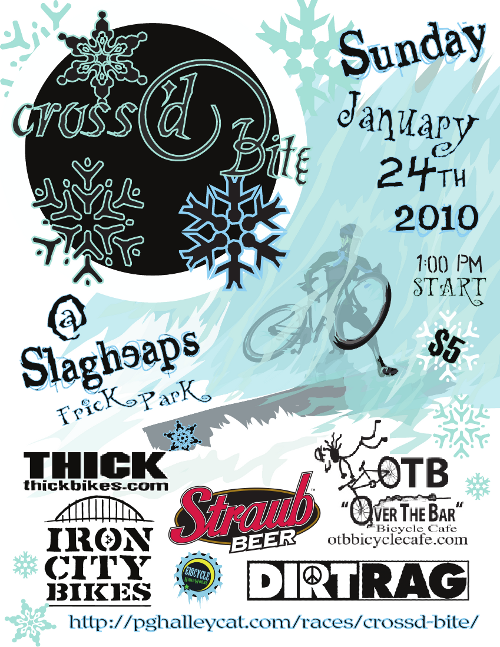 Some winter cross 'nat! An hour of riding, running & bunny hopping in the cold & (hopefully) snow. Cash & prizes for the winners. Potluck to follow.
And now… Straub for everyone! Thanks to Straub for chipping in some ice cold delicious "sports drink", by which I mean BEER!
RACE:
Where: Slagheaps (Goodman Radio Tower in Frick Park)
When: Sunday, January 24th; 1pm start
How much: $5 to race, free to watch
Prizes: Yes. Overall, womens & jeans (for the hipsters)
If you're confused about how to get to the slagheaps, or would rather park somewhere convenient, there will be a guided ride leaving from the S. Braddock and Biddle Parking lot at 12pm.
POTLUCK:
Where: Highland Park (5484 Hays St, the house with the giant chainlink fence)
When: Sunday, January 24th; after the race… like, I dunno, 3?
How much: Covered dish
Prizes: it's a POTLUCK
Where we at on the internet?
RSVP on Facebook
Blab about it on the Bike-PGH forum
Sponsored by:
Results
The race was 13 laps but we called it after the first three riders finished. Ranking was given to number of laps then finishing order. Flats & hypothermia contributed to several DNF's, which in this case means the rider decided to stop before we called the race. We tried to give riders pit laps for their first flat, but we probably missed a few because hey, we're professionals. Anyway:
Montana Miller (#11): 13 laps @ ~1:00 (jeans, fixed)
Ben Stephens (#14): 13 laps @ ~1:10
Mike Tressler (#8): 13 laps @ ~1:11
Chris Beech (#1): 13 laps (jeans)
Stik (#21): 13 laps (jeans, fixed brakeless)
Peter Streibig (#13): 12 laps
Dave Petrak (#15): 11 laps
Bo Smith (#10): 11 laps
Mike Carrol (#23): 10 laps
Matt Smuts (#12): 10 laps (shorts & t-shirt)
Alex Darrow (#3): 10 laps (jeans)
Carl Sustersh (#9): 9 laps
Dave Sopko (#20): 9 laps
Emma G (#7): 8 laps (women's, jeans, Canadian)
Jess H (#6): 7 laps (women's)
Eric Lundgren (#2): 7 laps, DNF
Aaron Stein (#4): 4 laps, DNF
Matt Loht (#17): 4 laps, DNF (tie)
Ted King-Smith (#18): 4 laps, DNF (tie)
Rick Neff (#19): 4 laps, DNF (tie)
Jeff H (#5): 3 laps, DNF
David White (#16): 3 laps, DNF (tie)
A more literary description
(All photos by Mark Rawlings)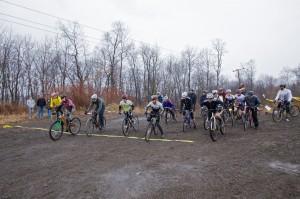 My day started at 9:30 with a phone call from Ted admitting that he probably wasn't going to make it to the slags by 10am. Then it was out the door to pick up Erin's car and then the stakes at Home Depot.
I met Stik at the slags around 10:30 and we jointly discovered that hammering stakes into slag is not so easy. In the middle Eric & Eryn showed up. With extra help on the scene and rain starting to fall, I decided it was a good time to return the car and pick up the last of the prizes from Iron City Bikes. On the way out I passed Montana and Tessa heading in to volunteer.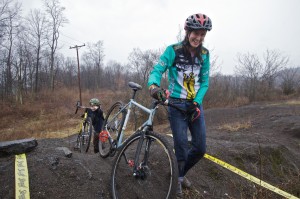 I had barely returned the car and biked back to my house before I got a phone call and realized we had our first race day SNAFU: the Straub banners were still on Caitlin's porch (& Caitlin was at work). It was back to Erin's to pick the car up, a trip out to Highland Park and finally a rainy drive to the slags. Luckily the rain made everyone drive slowly so I kept my record of being late to every single event I've ever co-organized.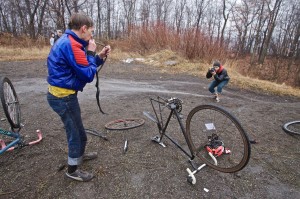 Once there Eric got me up to speed. We waited for Eryn & Hammer to get to their course marshall positions and then Eric announced the start. We watched them head off and then Caitlin and I worked out a system by which the two of us could hold an umbrella, take pictures, yell at people for their race numbers, and then make illegible markings on the soggy pile of wood pulp that had been our registration sheet.
I guess I should mention that it pretty much rained the entire day. And was about 40 degrees. Brrr.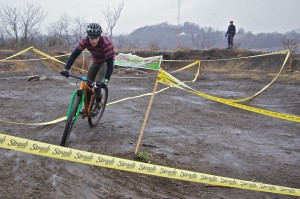 It wasn't long before young speedster Montana rode the run-up on his brightly-colored fixed-gear 29er of death. He was quickly followed by the rest, now broken up into groups of 2 or 3. That's not very many people, but it's enough to cause congestion on top of the hills, especially since the grade & loose slag was causing lots of dabs, slides & falls. Good times.
The wet slag also destroyed "thin"–apparently anything less than 35mm–tires. The first lap saw at least 3 flats, with several more happening throughout the race.
The race quickly settled into a rhythm but was broken by some memorable moments:
Matt Smutts grunting his way (almost) up the run-up each time while wearing shorts, a cotton shirt and ski goggles
Emma & Jess learning the hard way that shouldering your bike not only keeps it from rolling back towards you it also gives your body more weight so you don't slide down the hill
Eric Lundgren & Ben Stephens demonstrating proper cross remounts
Chris Beech showing how a trials rider makes it to the top of a steep climb: lock your brakes and hop around
Stik yelling on each lap until he bonked and required emergency chocolate from Eric and a burrito from Eryn
Spectators–including a fair number of DNF riders–yelling and banging on cowbells
Including Dan G who watched until he was shivering uncontrollably and turning blue ("Why didn't I wear wool!" he said despairingly)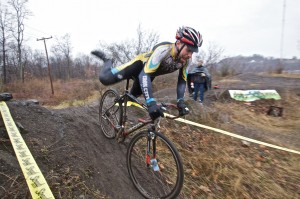 Montana gained time each time around, eventually lapping the entire pack. The placements were also starting to look pretty clear so we called the race after the first three–Montana, Ben & Mike–crossed the line.
The racers recounted their triumphs while we divided up a wet pile of cash and artfully arranged some schwag on Eric's Extracycle. The winners–Montana, Ben & Mike for overall, Emma & Jess for women's, Chris for Jeans (& 4th overall)–picked up their medals (thanks Eryn!), cash (thanks contestants!) and prizes (thanks sponsors!) and we announced the potluck. After that it was all over except for the clean-up.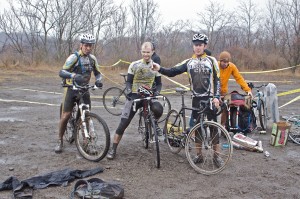 The clean-up went quick thanks to Eric, Stik & Hammer. We got everything bundled onto Eric's Extracycle for the ride to the cars when Stik discovered the slags last parting gift: another flat tire.
After a stop at Trader Joe's to get some chips & salsa–the lemon meringue pie didn't happen–I made it to Caitlin's around 4 pm. There were folks sitting around in half their clothing while the rest of it took a spin in the dryer. I was pleasantly surprised that one of those people–though a fully clothed one–was Jeanne. She showed up despite not knowing anyone but me (and we only met once, 18 months previously); that's the kind of brave soul we need to stir up this potluck scene! Especially when you're also the kind of brave soul who makes haupia, which is just about the best thing in the world (that you can make from a coconut).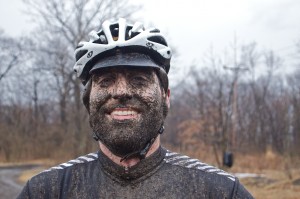 That's not meant to slight any of the other dishes, especially Caitlin's vegan sloppy joes, Tessa's cupcakes, Brent's tortellini soup, David's tater tots and ???'s apple chips. Someone also brought those tortilla chips that are dusted with lime & cocaine (or something similarly addictive). And of course Straub gave us lots of beer.
After eating everyone gradually got groggy and drifted off. I left around 7 pm when things were down to just the people who lived there and the hardcore. Surprisingly Caitlin's house was relatively un-muddy.
Whew!
Thanks to everyone for a great day.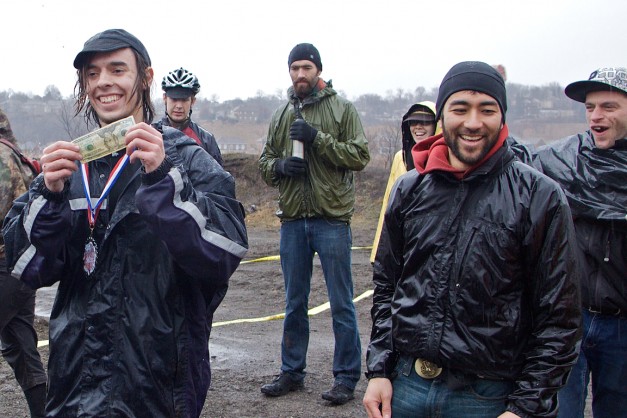 And a special thanks
To all those who helped:
Stik: for spiritual guidance, course marking, beer sponsor finding and general enthusiasm
Caitlin: for potluck hosting, race co-ordination, score keeping, umbrella holding, etc.
Eric: for course making, beer transport, supplies, race starting, prize dispersing, etc.
Ted: for course making, ride leading, prize coordination and beer drinking
Kelsi: for making the flyer (good luck with the appendix)
Eryn: for trophy making, course marking, course marshaling and saving Stik's life by giving him a burrito (and for riding all the way in from Penn Hills)
Hammer: for course marking, course marshaling and cowbell acumen
Montana: for course marking
Tessa: for course marking
Gill: for score keeping, umbrella holding & letting me win the run-up contest
Mark: for taking photos from places other than on top of the run-up
Matt: for not only donating beer but also showing up to ride your bike in the rain
Erin: for letting me borrow her car all day
All the spectators: for coming out in the rain to bang on cowbells
Everyone at the potluck: for bringing food, especially
Jeanne: for making haupia
All the sponsors: for giving us stuff
And me: for typing all this
More links
---
---
4 Responses to " Cross'd Bite "
Comments:
Aaron says:
December 29th, 2009 at 3:12 pm

what about corduroy?

dave says:
December 29th, 2009 at 3:14 pm

Corduroy counts. But I'm drawing the line at that new "tights & long shirt" hipster girl look since it's too much like regular bike gear.
Leave a Reply
Trackbacks & Pingbacks:
Pingback from The Bike Pittsburgh Blog Archives » Fun Event Sat. 1.23.10: Cross'd Bite! – A winter cross race at the slags
January 19th, 2010 at 6:21 pm
Pingback from The Road to Happiness » Blog Archive » Cross'd Bite and Blogs
January 28th, 2010 at 11:47 am

[…] was a bandit cross race this past weekend in Frick Park called Cross'd Bite, organized by the guys that put on a lot of alleycats in Pittsburgh. It was pouring rain, adding […]