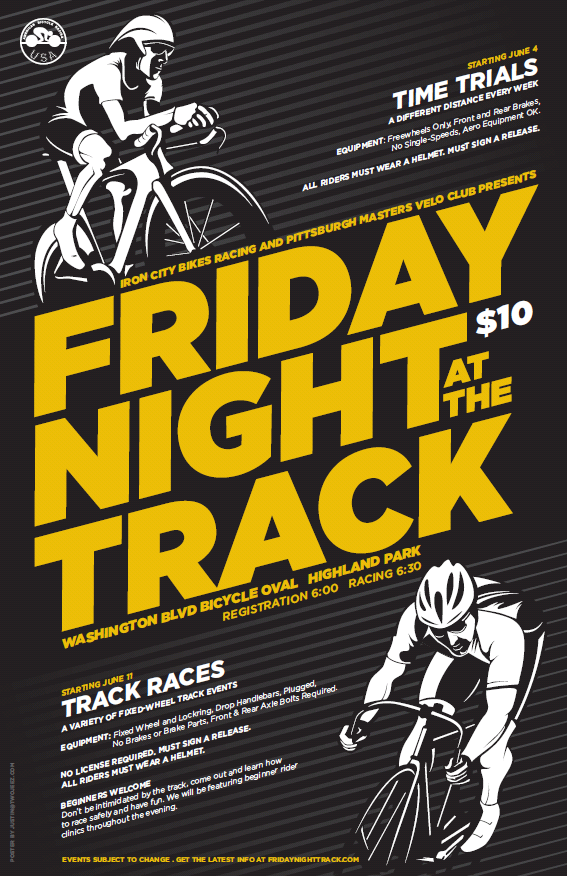 When:
June 11th
June 25th
July 9th
July 23rd
Registration Starts at 6:00 Racing at 6:30
Where:
Washington Blvd Oval
Join Iron City Bikes Racing and Pittsburgh Masters Velo Club for exciting an exciting summer of fixed gear track events. We will be holding a number of different events every week including Keirins, Sprints, Pursuits and more. Track racing is fast and entertaining and we aim to keep it that way! Anyone who has a track bike, or has thought about purchasing one, should come out and join in the fun, it's only $10 to race and no licenses or previous experience is needed. Prizes and Cash awarded to points leaders at the end of the night from Magic Hat Brewing, Mad Mex, Iron City Bikes and more.
For beginners we'll be holding educational seminars throughout the evening to help acclimate riders to the racing environment. These seminars will be focused around first time racers and will include things such as: Riding in a pack, pacelining, sprinting and bumping drills. Our hope is that this will encourage new riders to give track racing a try.
For more information please check out www.fridaynighttrack.com.
Equipment:
The proper equipment in required to participate in the Track events. If you have any questions about equipment, please contact us.
Fixed Cog and Lockring
Drop Handlebars
Bars MUST be plugged
No Brakes OR Brake Parts
No Quick Releases (front/rear)
Appropriate Clothing is required (Nothing baggy and closed toe shoes)
No Platform Pedals – Toe Straps, Cages, or Clipless Pedals only
---
One Response to " Friday Night at the Track, 2010 "
Comments:
Leave a Reply
Trackbacks & Pingbacks:
Pingback from Bike events this weekend: Track & Babes » Pittsburgh Alleycats
June 7th, 2010 at 12:17 pm

[…] Race at the Track Sunday: The […]