It's over! You can go ahead and skip to the results.
---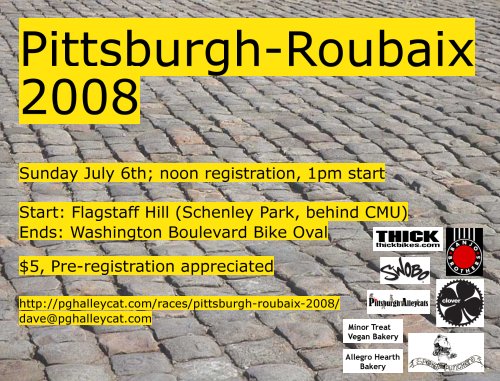 Year two! (See what it was like last year.)
This year is the same course: same hills, same cobbles, same track. Same $100 for first place.
When: Sunday July 6th, registration opens at noon, race starts at 1
Start: Flagstaff Hill (Schenley Park, behind CMU)
Ends: Washington Boulevard Oval
Cost: $5, pre-registration appreciated
Prizes: Cash & others!
Pre-registration
A good count will help me know how much food to get and not waste too much paper and money printing extra spokecards. For you, it gets a blingy customized spokecard. Just tell me what you want in the "##" and "sample name" fields (you can leave the name blank if you want):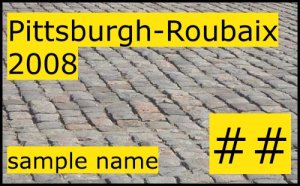 Let me know via email: dave@pghalleycat.com
A few rules
The checkponts must be completed IN ORDER!
You don't need to stop at the checkpoint, just give the volunteer your number
You can choose your own route between checkpoints
You must travel the entire length of the cobbles (there are two exceptions, see the route)
You cannot ride the sidewalk of the cobbled sections! You can walk the sidewalk, walk the road, ride the road, sit down and cry… but no riding on the sidewalk. That kind of defeats the entire purpose.
You have to cross the finish line of the oval three times. Realistically, that proably means you will enter on the far side and do two and a half laps.
DON'T BE AN IDIOT! The course is completely open. That means don't hit any pedestrians, and don't get hit by any cars. The course is long enough and hilly enough that shaving time at lights isn't going to be what gives you the win. Besides, it's supposed to be fun. I've tried getting hit by cars and it's not nearly as fun as you'd think.
The Route
Exactly the same as last year:
Here's a map of the checkpoints & cobbled sections:

(Interactive map on Google Maps, Map images on flickr)
They are:
START: Flagstaff Hill (Schenley Park, behind CMU)
Schenley Trail (the cobbled trail that starts behind the visitor's center near Phipps) (cobbles are optional because of construction. You can take the steps if you want.)
Joncaire (next to Iron City Bikes)
Sandcastle parking lot, rear entrance (cobbles are optional if you choose not to take the Southside trail)
Grant St.
Chestnut St. (Across 16th St. Bridge)
Intersection of Mt. Troy Rd & Hoffman Rd. (North Hills) (No cobbles for this section)
McCandless St. (off of Stanton)
Murray Hill (Squirrel Hill)
Henrietta St. (Regeant Square)
LaClaire St. (Regeant Square)
Laketon Rd. (Wilkinsberg, off of Swissvale Ave. / Rt. 8)
END: Washington Blvd. Oval (END)
Here's a sample route I took when planning the ride. Remember: you can take any route you want between check points. This is just a sample.


(Interactive map on Bikely, Map images on flickr)
Results
Check out the full results table. Highlights: Eric L, Steve K, and King Ted (last year's winner) made an early break and held it to the end. Ted got caught leading out the pack on the track. He jumped early to try to open a gap but was beaten to the line by Eric and, half a wheel later, Steve. They finished in about 1:50.
Rob L and Jon Lomax were 4th and 5th, about ten minutes down. Lomax was first fixed last year but decided to go for gears this year; a good decision except for poor bike fit. Lower back pain basically took him out of the running for first.
Without Lomax to worry about, Dan Goldberg (last year's 2nd place fixed) took 1st place fixed over Brad Q (from Urban Velo), Matt K, Mike Bennett and Nicholas Hohman (whose team won Pittsburgh's first bike polo tournament).
Tricia won first woman, thus becoming the only Pittsburgh-Roubaix two-time champion. Brittany came in 2nd. Rob Wolfe and Jeff both tried to boost their chances of winning by entering the women's category but subsequently failed the genetic screen.
DFL went to Jason Munley, who I recruited the day before when dropping off a flyer at Allegro Hearth bakery (also donor of bread & pastries). He entered despite, or perhaps because of, co-worker Gillian (or is it Jillian?)'s dissatisfaction with last year's race: after training for the ride she flatted on Joncaire, only a mile into the ride. Jason also wins prize for "only bike with suspension fork" and "coolest sunglasses". Take a look at the pictures if you don't believe me.
Kudos to the rest of the riders, who all looked to be riding hard when I saw them at the top of Laketon. Also sorry to the scads of you who got flats on the Southside railroad stones. If it makes you feel better, I got a flat there Saturday and realized I forgot my tools in my hydropack. I started walking, which is exactly what Rob did during the race.
Thanks to the volunteers: Josh, Leanne, Ding, Chris Cornbread, Brian, Sarah, Erin Cupcakes & Allie. You proved you're better organized than me by either taking much more detailed notes and/or bringing your own cooler of water to keep people from dying at the top of Hoffman Rd.
Finally, big thanks to all the sponsors.
Some pictures
Sponsors & prizes
Overall, fixed gear & women's categories.
Thanks to all the sponsors!
Last year's winner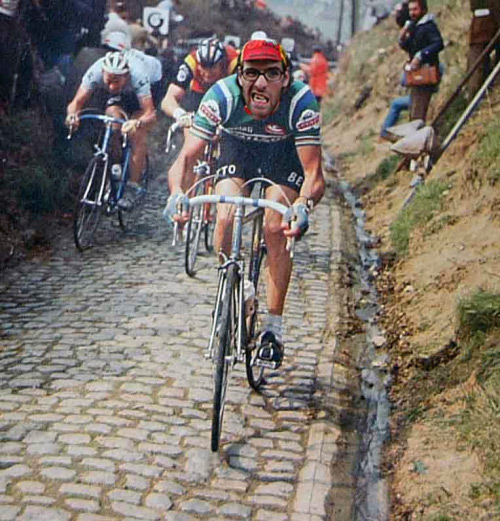 ---
2 Responses to " Pittsburgh-Roubaix 2008 "
Comments:
Leave a Reply
Trackbacks & Pingbacks:
Pingback from ndanger.organism :: blog :: MS-150 2008, a wrap-up
June 10th, 2008 at 9:17 pm

[…] minute cramming by riding to Ohiopyle and back (150 miles). This year my cramming was riding the Pittsburgh-Roubaix course, all 40 miles of it. Combined with the mountain biking and step running, my training this […]

Pingback from Erok is DFL… :: Spokepunchers
June 2nd, 2009 at 3:50 am

[…] took advantage of the Pittsburgh-Roubaix 2008 to finish the Pittsburgh-Roubaix 2007. Talk about DFL. At least he got a sweet […]