It's done, dude. Check out the results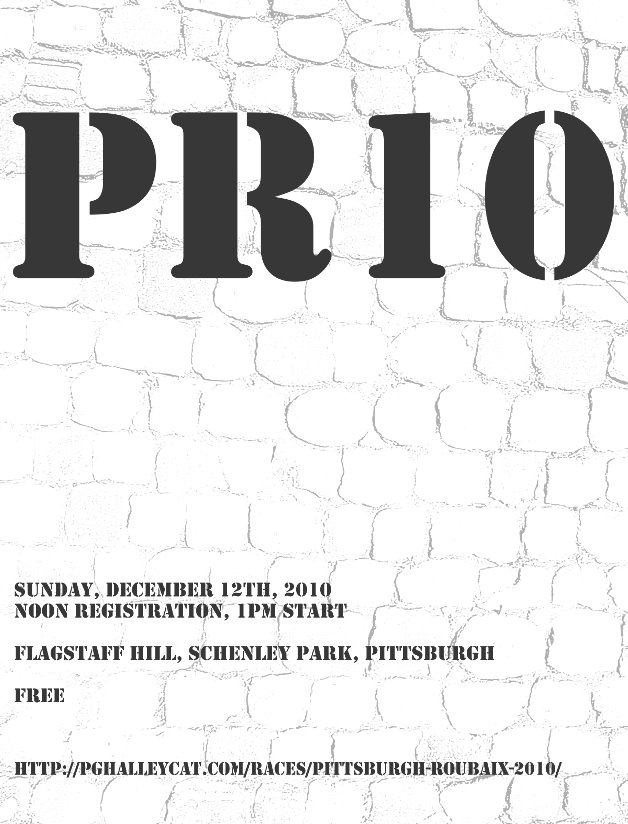 Snow has fallen so it's time to ride… your bike up cobblestone covered hills. Yay!
When: Sunday, December 12th 2010; noon registration, 1pm start
Where: Flagstaff Hill, Schenley Park, Pittsburgh
Why: ???
How much: Free
After-party?: Yes! Meet at The Sharp Edge (320 S. Clair St.) after the ride… about, I dunno, 3pm?
Discussion discussion discussion:
Revisit the past:
Route
The route is a slight modification of last year. Essentially the South Hills and Spring Hill have been culled and a few other flat boring sections are omitted.
START: Flagstaff Hill, Schenley Park
Schenley Visitors Center cobbles & Schenley Fireroad between Schenley Dr. & the turn off to the fireroad to Panther Hollow Lake
Joncaire St. between BoundaryS St. & S. Boquet St.
Bryn Mawr Rd. between Centre Ave. & the end of the cobbles on Bryn Mawr
Soho St. between Mahon St. & Centre Ave.
Climax St. between E. Amanda Ave. & Arlington Ave.
Wyoming St. between Virginia Ave. & Sycamore St. (this isn't the entire section of cobbles)
Grant St. between Blvd of the Allies & Liberty Ave.
Buena Vista St. between Amandale St. & Perrysville Ave.
E. Burgess St. between Osgood St. & Wurzell Ave.
Chestnut St. between Spring Garden Ave. & Phineas St.
Intersection of Mt. Troy Rd. & Hoffman Rd. (No cobbles here, just go through the intersection)
Kendall St. between Kent Way & Celadine St.
Murray Hill Ave. between 5th Ave. & Wilkins Ave.
Laketon Rd. between Marie St. & Graham Blvd
Washington Blvd bike oval. You must do 1 and a half laps (you must pass the finish line twice)
END: The Sharp Edge (320 South St. Clair Street)

View Pittsburgh-Roubaix 2010 in a larger map
Rules
This is an open course with no manned checkpoints. Please follow these rules so no one hates you:
You must ride the checkpoints in order
There's no set route between the checkpoints
For cobbled checkpoints you must ride the entire length of the cobbles. Really.
You can ride the cobbles in either direction (uphill or downhill)
And when I say ride, I mean on the road, not the sidewalk. You can also walk if you want, and if you're trying to ride your fixed gear up Kendall, you're going to want to walk
Recommendations
This is a completely unsupported ride on open roads! So be careful! Hospital = DFL. So:
Wear a helmet
Bring a water bottle & food (or some money for food)
Bring a map
Bring a cellphone
Ride smart!
Results
I arrived at an empty Flagstaff at noon. The city was grey and wet: the unexpectedly high temperatures turned the predicted snow to cold rain. It was a very Flemish day, perfect for cobblestones. It was only a few minutes until Dave showed up, then it was 40 minutes of shivering in the rain until the other dozen racers got there. A nice surprise was Gillian who, being the only woman, was guaranteed a win and a chance to shake the albatross from 4 years ago.
From there I headed to the Sharp Edge to wait.
Rob–not racing–showed up to keep me company and watch the Steeler's game. Around 4pm Ted & Varun showed up. Turns out the riders had decided to end at the oval and then go change before heading to the end.
Steve K–last year's overall winner–rode with John Heffner–last year's fixed gear winner–for most of it and they took 1st & second. Aaron Shelmire came in soon after for third. Next was Ted & Eric (I think) and then the rest, including a few who skipped a few check points (mostly Laketon). Unfortunately I didn't write down people's names or numbers so all I've got is:
1. Steve Kurpiewski (1st overall)
2. John Heffner (1st fixed)
3. Aaron Shelmire
4. Eric McKeegan
5. Ted King-Smith (after losing an exciting sprint to Eric)
6. Mark Rawlings (1st internal hub)
… Gillian Goldberg (1st female)
If you've got results, stories or pictures let me know. Email me!
For instance, here's an awesome picture Aaron took of the victors (minus Gil, who skipped the after party):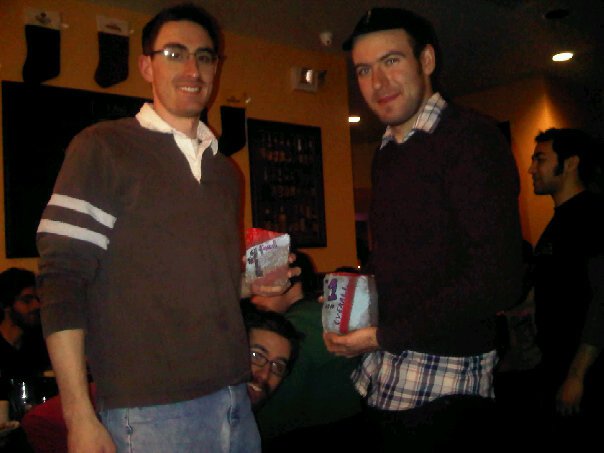 And here's Aaron's write-up: Pittsburgh-Roubaix 2010
---
No Responses to " Pittsburgh-Roubaix 2010 "
Comments:
Leave a Reply