Tue 16 Dec 2014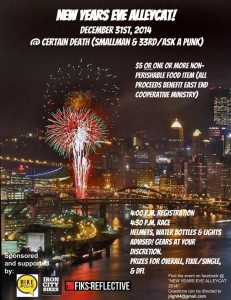 Start @ Certain Death (33rd & Smallman)
End @ Zulema Park (Boulevard of the Allies & Zulema st.)
Registration at 4, race at 4:30 p.m.
Cost is $5 OR one or more non-perishable food item; all proceeds go to the East End Cooperative Ministry.
Race consists of 8 check points that can be completed in any order.
Manifests will be handed out prior to the start of the race.
Helmets, lights & water bottles strongly advised.  Gearing at your discretion
Prizes for overall, fixie/single, & DFL
After party in the works.